Naming Your Feelings: A Guidebook to Understanding & Controlling Your Emotions
Please sign up below to receive your free digital copy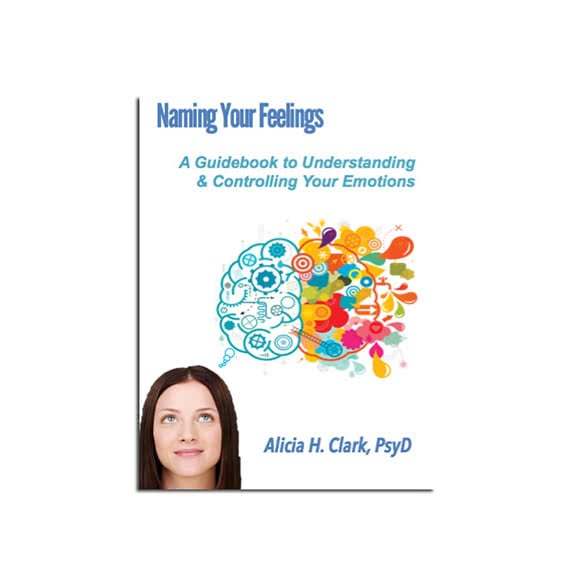 Naming your feelings is a first key step to understanding and taking control of your feelings – if you can't name them, you can't do anything about them. But naming them isn't always easy for everyone. When this is the case, I have found scanning lists of feelings to be particularly helpful in that it can jump start awareness, but also broaden one's emotional vocabulary. Understanding and naming your experience activates more of your awareness and is an important step in mobilizing your coping resources.
To get your free copy of Naming Your Feelings, please signup here.
This book gave me hope
I always thought of anxiety as something that was unhealthy and incapacitating, but Dr. Clark's new book has changed my perspective by revealing how anxiety can actually be good and constructive -- something we can use to our advantage. Her book is relatable and easy to read, providing scientific background and scholarly research along with thoughtful, practical tools for how to take control and use anxiety to your advantage. I am buying a copy for all of my friends and family who have anxiety or love someone who does.
Empowering, engaging, useful read; am recommending the insight-provoking, compassionate book to many
The book is incredibly well-researched, yet shares the quotes, statistics and patient stories in a way that flows and is easy and enjoyable for the reader. The stories illustrate the points and resonate in a way we compassionately recognize ourselves or others in our circles, and I found myself, like in movies, wanting to warn or comfort the patient. "Oh, hon, just talk to them. It's not that bad... or you deserve to stand up for yourself and then go to a place that appreciates you.... or oh yeah, we've all been there, perfection isn't possible, is not the goal, improvement is."

... read the rest of the review on Amazon.com
What is your anxiety trying to tell you?
Dr. Clark's book, "Hack Your Anxiety: How to Make Anxiety Work for You in Life, Love and All That You Do" is outstanding! Easy to understand, the book helps you decode what your anxiety is trying to tell you. The insights on how modern life and the abundance of choices are impacting us and the framework Dr. Clark provides with its emphasis on empathy, curiosity and compassion as allies in one's quest to make use of the positive aspects of anxiety is powerful. The personal stories she included made the book a much lighter read then I expected. I appreciated its practical nature especially the toolkit at the end. If you only read one book on this subject make it this one- very much worth your time.
Putting your anxiety to work FOR you--what a concept!
Dr. Clark's new book is more than a self-help book, it's a road map to help turn challenges into opportunities. Everyone suffers from anxiety, and some are paralyzed by it. "Hack Your Anxiety" provides practical, science-backed advice to help harness anxiety for good. A great toolkit for surviving, and thriving, in our stressed-out times.
Brilliant insights, practical advice for everyone!
Dr. Alicia Clark's new book, Hack Your Anxiety, is an easy read with practical advice for everyone on how to turn anxiety into advantage. The pivotal question she asks is, "What if anxiety is not a monster to be tamed but a resource to be tapped? What if we've been falsely viewing anxiety as the enemy? What if we should be steering into the skid?" Brilliant advice that comes with a tool kit on how to do it. The perfect gift for someone who has everything, but could use some peace of mind!
practical strategies for everyday life in 2018!
This book is so helpful for taking a problem that we all have in some form and showing how to flip it over into an asset that actually improves your daily life. As a small business owner, opportunities for anxiety producing events abound and never in a good way, or so I thought before reading this book. How refreshing and exciting to read Alicia Clark's alternative take on anxiety and the opportunities it offers. Her book outlines step by step ways to harness the energy created by anxiety into positive outcomes. Every person I know could benefit from reading this book and I highly recommend it!
The most interesting and practical psychology book you will ever read.
Instead of dreading and feeling embarrassed of the anxiety for which we seem to be hard-wired, we can acknowledge it and turn it to our advantage. Dr. Clark helps the reader spot anxiety that has been camouflaged and walks us through the process of addressing it. The problem is not experiencing anxious feelings that are completely natural (in fact there would be something wrong if you did not feel them). It is what the anxiety makes/lets you do and how long you ignore its effects that should be considered the challenges. Dr. Clark helps the reader understand this with evidence and presents extremely practical tools and advice to help us move forward.
Somebody understood me
Dear Dr. Clark: Thank you for writing this book for me. At least, that's what I feel you did, when I began and couldn't stop reading. My blessed Mom was episodically anxious in a debilitating way; and when I read the parts about Dr Clarks grandmother, I felt that she knew me and my Mom. In my life, when I experienced anxiety, I also had the double fear, that my anxiety was not legitimate, but, just genetic and inherited from my Mom. "Hack your Anxiety" (love the name) just gets better and better. It supports you, describes you, tells you what to do, it's simply invaluable. From a profound expert (Dr Clark), to little old me: thank you, thank you. Your book should be on everyones shelf, and in everyone's life.