Heartbroken After a Break Up? 3 Steps to Ease the Pain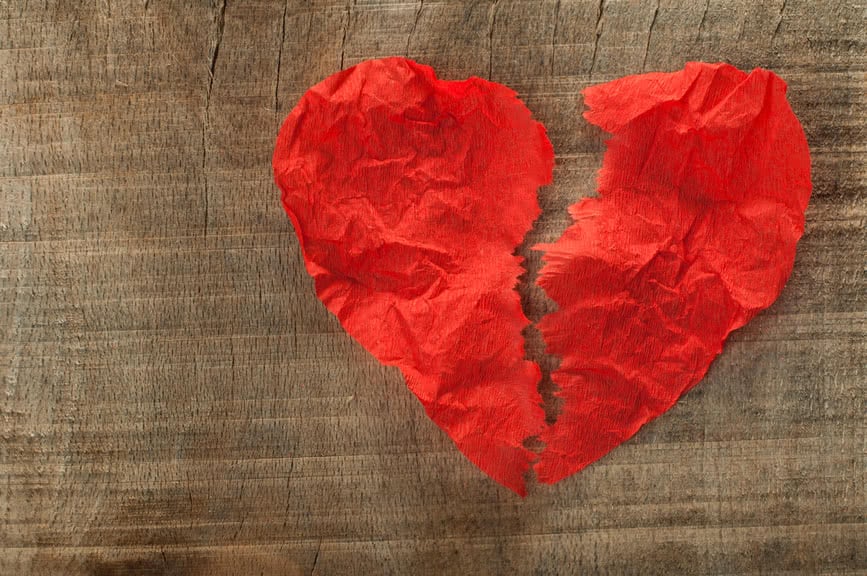 Remember when you held me tight
And you kissed me all through the night
Think of all that we've been through
And breaking up is hard to do.
– Lyrics to Neil Sedaka's "Breaking Up is Hard to Do" (1962)
Many of us have been there. We thought this relationship would last forever. We envisioned a future with this person, we trusted this person, we invested in this relationship, and there were really good times. But now, for whatever reason, the relationship hasn't worked out. And we're back to square one, single, lonely, and longing. Often we feel miserable, and heartbroken after a break up, full of worry and full of dread. How can we make the break up easiest on ourselves, while dealing as much as we need to?
Some say there is nothing more painful than how it feels after a break up, and that healing takes time. One has to mourn the good times, and allow the feelings of loss and pain to come. There is no better way through this process than to feel your feelings.
And yet, sometimes people come to my office feeling stuck. They can't stop feeling the pain of being heartbroken after a break up. They can't seem to let go, even if they want to. I have found a key contributor to keeping them stuck is how they are thinking about the relationship, and how actively they fantasize about what they have lost.
Mourning the good times is a completely normal part of grieving the end of a relationship, however, thinking only about the good times can actually make getting over the relationship harder. In thinking so much about the good times, and fantasies of what might have been, one's thoughts about the relationship can become skewed, sometimes allowing fantasy to overtake reality.
Moreover, this fantasy reverie can become a go-to salve for the painful reality feeling heartbroken after a break up, making it more and more of a part of one's thoughts. Indeed, just as people flock to feel-good movies to dull the pain of reality, people will often flock to their fantasies about their relationship as a respite from their pain, even if temporary and fleeting.
This is us focusing on what we wish were the case instead of what actually is… Many people do not realize  that every retreat into fantasy comes at the price of keeping us attached to the previous relationship, stalling us from moving forward after a break up.
The eventual goal is not to fantasize – a kind of "just don't go there" – but that's easier said than done, especially at the beginning. So here are some step-by-step suggestions to wean off the fantasies, grab hold of the realities, and ultimately feel empowered to move on. 
Step #1: Notice Your Fantasies And Their Emotional Impact
Start to notice when you are thinking about the relationship, and track your thoughts on being heartbroken after a break up. Where do your thoughts go? How often are you finding yourself playing the "highlight reel", thinking about what might have been? And most importantly, how is it making you feel?
If you notice that your thoughts about what could have been are making you feel worse, this is a signal that these fantasies might be getting in your way of healing. The more we think about something, the more ingrained it becomes.
We know that brain circuitry strengthens with use, and likewise, atrophies when not used. "Use it or lose it" is often a term neuropsychologists use to describe how our brain works: What we "use," or think about, becomes stronger and more efficient, and what we don't use loses strength and efficiency. The trick here is to be mindful of which thoughts you are "strengthening" in order to maximize your healing from being heartbroken after a break up.
Step #2: Focus On The Hardships To Let Go
One of the most overused phrases well-meaning friends say in situations of loss is "let it go," or sometimes, "get over it." For starters, this advice is sometimes experienced as insensitive. After all, if you could "let it go" so simply, you would, right? And yet, many of us want to do just that. Let go. But we simply don't know how.
The best way to promote the process of letting go is to become more aware of the ways you actually want to let the relationship go.
To facilitate letting go, start by reminding yourself of the painful parts of the relationship. What didn't work in the relationship? What was ineffective, emotionally difficult – perhaps even abusive – about the relationship?
As you start to think about this, consider writing your thoughts down. Making a list will help bring these realities to the forefront of your mind and help clarify your thoughts – studies even show improved  memory – about these issues.  After you have written your list, read it over, and notice how you feel. Chances are, you are beginning to feel yourself not want the relationship, and this is the beginning of detaching and letting go.
Step #3: Look to Rebalance Your Thoughts Between Fantasy and Reality
 The next step is to place this truthful negativity into some of your fantasy scenes, and see how it plays out. This honest combination can provide you a more grounded view, providing a welcome, ideal setting for closure. Focusing your thoughts on a more truthful narrative sets the stage for recognizing the choices you have, rather than the choices you wish you had, allowing you to move forward in an adaptive way.
As soothing as the "highlight reel" can be, it seldom encompasses the realities that likely played a key role in the relationship ending. Focusing on what was negative about the relationship allows you to begin integrating the relationship as a whole.
So, when feeling heartbroken after a break up, if you catch yourself drifting into the dreamy state of the highlight reel, bring to mind instead the aspects of the relationship that were problematic. Literally pair these negative realities with your positive thoughts, as often as you can. Honing in on what didn't work in the relationship, especially when you feel mentally pulled to the "highlight reel," is the most useful strategy we have to let go, and find closure.

Step #4: Even If You're Not Ready to Move On…Set The Tone for Your Next Relationship
 The ultimate test of letting a relationship go is being ready for a better one. At the same time, you don't have to wait until you are ready to set the tone. You can take advantage of the above process to consider what you'd like in a future relationship, even if you aren't ready to start dating again yet. Here are some ideas for doing so:
Make a list of what you learned from the previous relationship.
Write out how you would like to behave differently in your next relationship.
Detail the type of person who is a good fit for you, and who you would prefer in a relationship.
Write out anything else you'd ideally like to have in a relationship, in light of the fantasies and realities from the previous relationship.
Make it real by talking it out with a trusted confidante.
Yes, dealing with the pieces falling after a break up is hard to do, and it is a process of re-balancing your heart and your head that takes time, and effort, and believe it or not, you will be able to let go of feeling heartbroken after a break up.
As much as falling in love has to do with losing our awareness of our beloved's faults, falling out of love has to do with just the opposite, clarifying anew those faults and recognizing just how untenable they were. Working through fantasies and being honest about realities will ultimately lead you to be stronger in yourself in general, and specifically prepare you for your next, better relationship.
Still struggling with catastrophic thinking and incessant worry? Check out my online interactive Breaking Free From Obsessions Solution designed to help you take control of  excessive worry, so you can find the peace of mind and confidence you crave, starting right now…
Offered at a huge discount for a limited time, claim your spot here.
Or post a comment below, and let us know what's working for you.