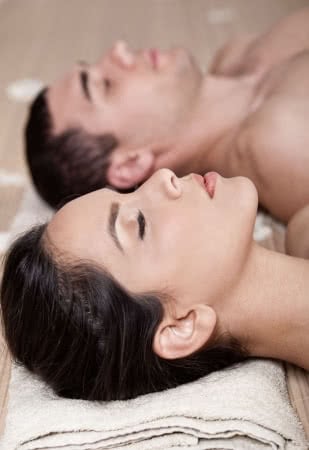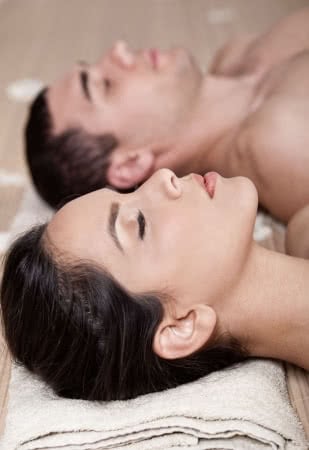 With Valentines on its way, here is a great gift idea…
What couple hasn't occasionally lost touch with the sensuality of touching? For new as well as seasoned couples, spicing up – or even just maintaining – intimacy in the bedroom isn't easy, and is often a goal of at least one partner in a relationship. Research shows that both novelty and fun can help you and your partner to feel closer and jump-start intimacy in the bedroom, and relaxation is fundamental to openness for intimacy and connection. Here are a few reasons why couples massage can be great for your relationship.
Relaxation and Intimacy
First and foremost, massage is one of the most efficient ways to relax; and there is no better physical state for a couple to share than relaxation. A core element of intimacy is vulnerability. And for most of us, vulnerability cannot be expressed without relaxation and a sense of safety. Couples' massage is a way for couples to experience complete physical relaxation together in a safe environment – an experience that can efficiently set the stage for both emotional and physical intimacy.
Improved Massage Technique
Sometimes couples' massages are performed side-by-side by two different therapists simultaneously. Other times, a massage therapist treats each partner separately and gets partners involved in practicing new moves on one another. Both of these approaches have decided relaxation benefits, and it is important to choose the right one for you. Whether you are looking to relax together efficiently or to learn new techniques, couples' massage can be an efficient way to boost the intimacy in your relationship. At a minimum, both partners will be mutually relaxed. At best, each partner, in a relaxed state, will become more aware of what helps his or her partner to relax.
The common thread here is relaxation. Relaxation is fundamental to intimacy and is an all too precious commodity in our busy hectic lives. Finding ways to relax together is essential if you want to keep your relationship humming.
Novelty and Fun – A Great Gift Idea
Whether you are seasoned massage clients or brand new to the experience, embarking on a couples' massage sends the message to your partner that you value your physical relationship. Not only do you value spending time with your partner, but you value engaging in physical relaxation together and are willing to make it a priority.
Booking a massage for your partner and yourself ensures that you will take time away from your life to invest in your relationship, and it sets the stage for intimacy. It also introduces an element of novelty and fun – two characteristics known to be linked to relationship satisfaction.  Send the message that you value indulging together, and book a couples' massage the next time you want to give your partner a special gift.
Looking for more help in understanding relationship anxiety? Learn more about my book Hack Your Anxiety and access free tools to help you manage the fear and anxiety going around the world today.